ASC Anesthesia - Medical Informatics (CERNER)
Please enroll in the Medical Informatics (CERNER) online training that corresponds with your specialty, the online training is required to be completed in its entirety in order to register for the live session.

Instructor-led training for the ASC Anesthesia curriculum is available via appointment only. To schedule a training session please email Medical Informatics at MedicalInformatics@BaptistHealth.net

Both the online training and live session are required for credentialing purposes.
If you are unsure of which online training you should complete, please email the Medical Informatics department at MedicalInformatics@BaptistHealth.net.
Certificate: A certificate will be available after successful completion of this online training. This can be accessed once logged in via My Account link at the top right of this page then select 'My Activities' tab."
Target Audience
Baptist Health providers including physicians, fellows, nurse practitioners and physician assistants.
Learning Objectives
Navigate and utilize Cerner electronic medical record system.
Reduce redundancy and improve delivery of care throughout Baptist Health South Florida entities utilizing a single centralized system for clinicians to review patients' progress against expected outcomes, document findings, initiate and update orders and receive important timely notifications which affect patient treatment plans.
We are excited to offer you this innovative and proven methodology designed to help you become highly proficient in using Cerner. The web-based modules presented here are not simple recordings of lectures, but instead are real life interactive simulations that are configured to match your specialty and the workflows you use in your day-to-day practice of medici... ne. Much like computer games, these interactive simulations will challenge you to think and to build upon your experience as you work through them. Each physician will receive different simulations depending upon your specialty and whether the scope of your practice spans inpatient or ambulatory services or both.
After completing the web-based modules, you will be highly proficient in using Cerner. At that point, you will self-schedule yourself into 2--4 hours of additional instructor-led classroom training to learn about more advanced features.
Finally, we'll meet with you to set up the 'favorites' sections of notes and orders that will make Cerner unique to you.
Cerner is a fully integrated electronic record system. This means that every note and order you write will immediately impact the way that the rest of the care team assesses and delivers their own care to the patient. Focus on becoming highly proficient in using this Cerner tool and it will allow your skills as a physician to really shine.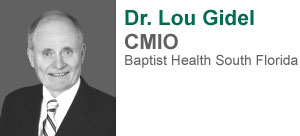 Due to the non-clinical nature of the content discussed, the speakers have no relevant financial relationships to disclose. This CME activity will not cover content that would involve products or services of commercial interests. Therefore no opportunity exists for a conflict of interest based on the financial relationships of faculty and those persons in control of content. Since these relationships are not relevant, no disclosure information was collected.
Baptist Health South Florida is accredited by the Accreditation Council for Continuing Medical Education (ACCME) to provide continuing medical education for physicians. Baptist Health has been re-surveyed by the ACCME and awarded Commendation for 6 years as a provider of CME for physicians.
              
Baptist Health South Florida designates this enduring material for a maximum of 2 AMA PRA Category 1 Credits™. Physicians should claim only the credit commensurate with the extent of their participation in the activity.
Available Credit
2.00

AMA PRA Category 1 Credit™

2.00

General certificate of attendance

2.00

Nurse Practitioners
Select ENROLL button above to register in this online training. You must successfully complete all modules with a passing score of 90% or higher to receive credit for this course bundle.
Select the module name you would like to complete above by clicking on its hyperlink (i.e click on Module 1- Anesthesia), this will take you to the module course description page. 
Required Hardware/Software
PCs Running Windows
Internet Explorer (IE 11 and above recommended): You will be prompted to download videos before you are able to view. Click "download" to view video.  After a momentary pause, the recording will play. 
This course is not comptabile with mobile devices or Apple products.
The following browsers are not supported:
Google Chrome 
Mozilla Firefox
Safari
Technical Support: If you are experiencing technical difficulties or have received an error message, please send an email to CME@BaptistHealth.net and include a print screen of the error message, your browser name and version, username and URL where the error occurred. You can expect a response within 48 hours.